Paints, Quarter Horses and Arabians

Painted Coos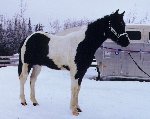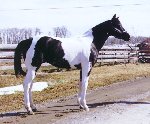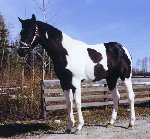 At Stud
| | | |
| --- | --- | --- |
| Registration: | | 406018 |
| Registered Name: | | Painted Coos |
| Colour/Type: | | Black/Brown Tobiano Paint |
| Foaling Date: | | May 28, 1997 |


Coos is 16 Hands tall as a 3 year old and his first foal was be born in April 2000. Coos has good legs, and hooves. He is very good-natured and is quiet to be around. He is broke to ride, has had 2 months training with Cori Stephens. He is easy to breed with. His father is Coosunga, who was owned by Ben Gumm in Fort Fraser. His father is 16 HH while his mother is a black & white homozygous mare I own. She is about 15.3 HH.

Coos is at stud this year for $500 plus mare care, which is $4.00 dry or $5.00 wet. We guarantee a live foal or a rebreed the following year. The first rebreed has no handling fee in the second year but if breed more than once, due to the mare not conceiving, then there will be a handling fee. If the mare does not conceive after she is bred, then we will want the mare to be checked by a vet to insure we can get her in foal. This will help get her in foal in a timely manner and keep the costs down for the mare owner.

We have some individual runs for mares and one large multi mare area. We have good hay and oats.

Coos is for sale, if sold I will keep the rights if any mares need to be rebred and a couple of breedings.

I also have a black & white 1/2 brother to Coos that will be of breeding age in 2001. If a mare owner wanted a rebreed (due to no foal from 2000 breeding) they could breed to Flash next year that would work for me also, or breed to Coos. Both studs have the same mother.

If a mare is breed and does not have a foal due to the stallion, then the stud fee will be returned. This covers if the stud was to die or become infertile only.

Any agreement to breed will last for the year of breeding plus the following year if needed. A mare may be substituted with mutual agreement between the parties.

Coos is about 50% color, Flash is 70 - 75% Black. Coos is entered into the NBCQH Futurity and the NW Paint Futurity Auction, so foals would be eligible for both the Paint and QH Futurities here in Vanderhoof next year.

Our goal is to get any mare bred here, in foal on the first heat cycle. This way owners get the foals when they want them(timing is important, to most people). When possible, we will breed every day to insure conception, unless the owner only wants every second day. The last few days of teh cycle are the most important.

If you are interested in breeding, you may be able to get a stud fee for less than the normal price. The stallion services auction is on the Internet.

Hope this information helps you. If you have any other questions, please let me know.
Coosa
Coosa Lad
Johnette Skip
Coosunga
Jackie Bee
Tee J My Miss Dee
Dee Red Money




Bar G Impressive
(QH)
Bonnington Express
Bay Tobiano
L & M's No Flash
Black Tobiano
Lances Flash Back
Black Tobiano
L & M's High Socks
Black Tobiano
Bonnington Peggy
Brown Tobiano
Bonnington Sadie
(QH)

Home

Paints

Quarter Horses

Arabians

Colors & Patterns

Web Rings

Banners

Links

Sign Guestbook

View Guestbook




Ted & Barb Anthony
P.O. Box 1084
Vanderhoof, BC
V0J 3A0
(250)567-2473
banthony@hwy16.com



Best view at screen sized 800x600.